Although it could stand as a debatable statement for some, many of us would argue that the most significant aspect of a brand is its logo. The logo is the selling point. It's what communicates the brand's philosophy to the world at large. Although the vision and determination of designers and creative directors is what influences a brand's reception and stylistic longevity, the logo is the symbol that can bridge the gap between the public and the brand's essence regardless of the public's existing knowledge of the brand's history and ethos.
The logo is the most basic means of identification. Nine times out of ten, when one thinks of Gucci, their mind doesn't immediately hop to Alessandro Michele's role as creative director. No — they will first think of those classic, luxe interlocking G's. Logos are timeless and designers are not. Logos play such an essential role in fashion, that it could make or break the brand. For example, when the French luxury label Balmain released their new logo in 2018 with a design team led by creative director Olivier Rousteing, it faced intense backlash from longtime admirers of the brand who felt that the new logo was boring, unoriginal, and uninspired.
A lot of of these logos still look the same in some way, retaining their general essence even as they were renovated for the modern age. But they have also lost something, haven't they? Certain elements of elegance, sophistication, and glamour dissolve within a new sterile format that almost seems to be a direct response to the resurgence of the minimalist trend within the consumer sphere. The "less is more" philosophy is one that a lot of fashion brands have adopted and it seems that the originality and liveliness within their logos have suffered. Creative directors have definitely noticed the consumer habits that direct the spending and attention of the younger generations. What's popular among Gen Z and Millennials is Flex Culture: the practice of showing off your wealth and/or "clout" by posing for Instagram and Tik Tok in designer items, specifically in garments that feature a prominent designer logo on them. This is more prominent in the streetwear and Hype Beast culture — a culture that I have a love/hate relationship with — as the two go hand in hand with one another.
High fashion brands have taken notice of this as it's grown to be more and more mainstream. With brands such as Louis Vuitton collaborating with Supreme, and Dior creating their own Dior x Air Jordan 1's, one starts to wonder how did something that was reserved for the rich and elitist open itself up to the regular consumer?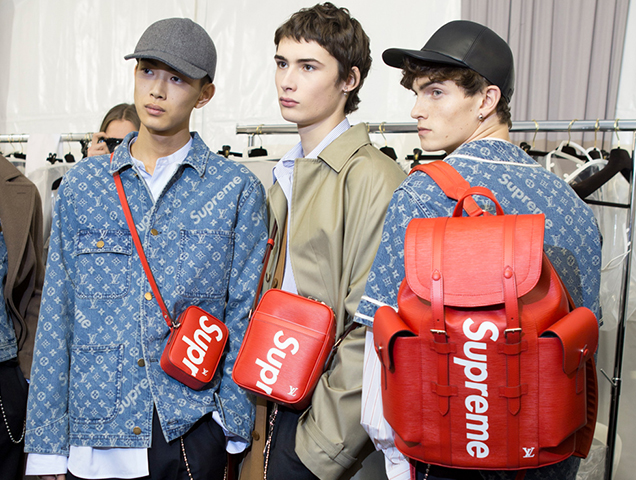 This trend can be sourced back to Dapper Dan, the American Harlem-born fashion designer who, back in the 80s, pioneered "gangster chic" out of his shop Dapper Dan's Boutique. Dan is now credited with introducing high fashion to the hip hop world by illegally printing luxury brand logos — Gucci, Fendi, and Louis Vuitton — onto garments that were then sold at a more affordable price point. He was doing what fast fashion brands are doing now way before them, styling notable figures in hop hop such as LL Cool J and sport stars like Floyd Mayweather and Mike Tyson. Back then, it wasn't a high class trend, it wasn't taken "seriously," and it most definitely wasn't "cool" until rappers themselves started to become more mainstream and their art, style, and creativity became worthwhile commodities for upper class investors.
Dan states in his interview with New York Times that, "It made more sense to me that the fashion industry was trying to shut me down than it did that people in my community wouldn't buy from me." Dapper Dan believes that the reason why they wouldn't buy from him was that initially, his clientele was made up of drug dealers, rappers, kingpins, and hustlers — essentially, all of the social groups that existed more-or-less on the fringes of society, not at the centre of it. Slowly, though, hip-hop culture expanded to envelope the mainstream. Trends started by Black artists were becoming successful, the prominent artists wearing his work exposed Dapper Dan to more business opportunities.
This led to multiple high fashion houses that he would take his inspiration from to sue him for trademark infringement. Ironically, years later, those same fashion houses — specifically, Gucci — are now collaborating with him and flocking to him for his talents. However, before the industry had the decency to finally acknowledge Dan's skills, his white counterparts capitalized off his ideas. As they say, it's always ghetto unless it's a white person that's doing it.
John Galliano, then-head designer at Dior, took "inspiration" from Dapper's monogram looks and brought the trend over to Dior where it became a commercial hit instantly. John isn't the only one who's taken inspiration from Dapper Dan without giving the Harlem-mogul his proper credit. Designer of Chanel, the late Karl Lagerfeld is guilty of this too. Fast forward to 2020, and we can witness stars like Billie Ellish, Nicki Minaj, and Rihanna sporting the Logomania-inspired looks. The trend feeds people's obsession with status and wealth without having to be entirely wealthy.
If a logo is an identity, what does it say about culture when the over-utilization of logos in design is attractive to groups that are growing younger and younger? Is it an allegiance to a tribe of "wealth"? Is the trend tacky, is it meant to be ironic, or are we onto something here? It's unclear which direction the trend will veer into in the unravelling future of fashion but there are some questions worth asking.
What are your thoughts on logomania?